Ut Rita hat ech nuks dervan begreffe, ut uvverdrieft ontiegeluk of ut is sjleat jeintegreerd in de samenleving.
Dinkt ut noe wurklich dat in Kirchroa de luuj oppens hollendsj junt kalle?
Um te "integrere"?
Umdat dit u tziche is dat de luuj zich nederlands veule...?
Da hat et zich waal op der buul jetroane...
(*)
Die sjtoppe nit mit plat kalle.
Net zoe jod als dat de Kirchroatsjer-marokkanen sowieso al zoe ver jeintegreerd sunt dat ze zelf och al zwei-talig sunt: ze kalle immers al berbers en Kirchroatsjer-plat.
Vrij vertaald: Rita heeft er echt niks van begrepen, ze overdrijft ontieglijk of ze is slecht geintegreerd in de samenleving .
Denkt ze nu werkelijk dat de mensen in Kerkrade opeens "hollands" gaan spreken?
Om te integreren?
Omdat dit een teken is dat de mensen zich nederlands voelen?
Dan heeft ze buiten de waard gerekend
!
(*)
Die stoppen niet met het dialect spreken.
Net zo goed als dat de kerkraadse marokkanen toch al zo goed geintegreerd zijn dat ze zelf ook al tweetalig zijn: ze spreken immers al berbers en Kerkraads-dialect.
Het valt te hopen dat dit plan snel afgeketst wordt of dat men er eens om gniffelt en het verder vergeet.
Net zo goed als dat de Friezen zich er waarschijnlijk ook niks van aan zullen trekken.
Als mensen zich buiten de burelen van de ambtenarij begeven, mogen ze spreken waar ze zich prettig bij voelen wat mij betreft.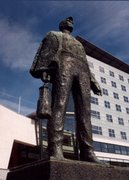 (*) Eigenlijk is dit niet te vertalen, het betekent letterlijk dat ze op haar zak heeft getrapt, maar dat kan natuurlijk niet...
Bovendien kent het dialect in die contreien geen eenduidige grammatica, en heb ik het maar fonetisch aangepakt...