Ik durf er niet aan te denken hoe dat voelt.
Ik kan het haar ook niet vragen.
Onze enigszins zenuwachtige "Queen of the Wadi" had mot vandaag.
Met een kleine wit en bruinzwart gevlekte achterbuur.
En nu is haar hoektand zo ontzettend uit het bot gebroken dat deze helemaal naar buiten staat.
Hoe ze dat precies voor elkaar kreeg weet ik niet...
Ze ziet er nu een beetje vreemd uit als ze lacht.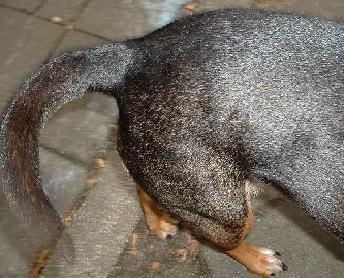 Maar ze kwispelt gek genoeg wel nog!